Ashby artist driven to drink
Lockdown has presented itself with many problems not least for Ashby de la Zouch artist Matthew Warburton from Aluminiumart. He has been prevented from showing his work at craft and art events across the country until at least October 2020. This means customers are unable to see his normal aluminium sculpture work, which is in itself a little different, thus preventing sales. They need to be seen to be appreciated.
Lockdown has made Matthew think out of the box. In fact, to create sales he thought of small postal boxes and what could be packaged in them and posted easier and more cost effectively. He already produces large planished and polished aluminium maps of UK and Ireland so the transition was to miniaturise them.
UK and Ireland planished and polished aluminium maps. The current range of maps not so easily posted.
Having created the Wales map he aproached craft beer brewer, Felinfoel Brewery in Llanelli, South Wales, to be sole supplier utilising their range of cans as the raw material for the maps. Mike Francis, Assistant General Manager at the brewery said "We are delighted to see our can range being sampled and converted into mounted art….as the oldest brewery in Wales, and the first to can beer in Europe, we certainly have the heritage and lovely to work in conjunction with Matthew to see our can range being utilised"
A case was sent but to protect the cans as much as possible they needed to be sent full, to keep up the internal pressure. The first delivery of 48 cans needed to be emptied, prepared, cut, mounted and returned as pictures to the brewery. Fortunately for Matthew he has some very willing neighbours who could turn the round quickly in order that he didn't have to drink them all himself.
Matthew can be seen returning from town, or back from a run with an empty can or two. Washed and prepared for further artwork as he has a range of products and more underway. His range of "Mini Editions" are vehicles encased in a small jar with a unique background. Starting with the British classics, the range is just beginning.
There's no need to contact Matthew to volunteer emptying cans as he has a long list already but you can support by visiting his website https://www.aluminiumart.co.uk/product/wales-map-framed-or-mounted-aluminium-can-art/
Other maps of counties and countries have been developed and further are under development with a range of brewers. Maps can be personalised at any location. In the Yorkshire map you can see a white rose.
Press release
November 2021
Aluminiumart COP26 inspired Christmas tree decorations
Whilst Politicians decide the fate of the future of the planet at COP26, there is no harm in individuals trying to make a difference. On the strength of recycled cans be used to create artwork, (see link below) another product range has been developed. While the sides of the cans were used to create unique and interesting artwork, the can ends were being sent for recycling. Determined to waste as little as possible, Matthew, at Aluminiumart, started work on turning the otherwise wasted material into further unique pieces.
Matthew already creates wonderful tree decorations and when customers ask if he can make another variant he would say that he can and that he can fall back on the twelve days of Christmas to see him into retirement. During the COP26 discussions in Glasgow, he was inspired and thought that he would take one small part in reducing the waste and cutting down on raw materials needed to create his artwork. Working on the adage, "If we all keep our doorsteps clean, the whole village will be clean" Matthew started on his promise of introducing the first of the twelve days of Christmas.
Using CAD skills picked up in Engineering and teaching, Matthew set about creating the first design to be able to utilise the surplus can ends from other artwork. Day one went so well that he would carry on and do the whole twelve days of Christmas. From computer to LASER marker, Matthew quickly ran up the prototypes and with a few tweaks to design and process found he had a wonderful range of products. We are sure you will agree.
Matthew will have to keep busy with other projects in the run up to retirement.
Items can be purchased at www.aluminiumart.co.uk/product/twelve-days-of-christmas/
Link to the story behind the recycled can artwork www.aluminiumart.co.uk/press-release/
Press Release
Glenfield WI meeting.
November 2019 Meeting –  A Road to Aluminium Art with Matthew Warburton.
Matthew Warburton started his working life as a coach builder in the 1980s making body panels for vehicles at the high-end of the market and he was also a teacher for fifteen years, gaining valuable skills along the way.
With a mix of these skills, modern technology and his undeniable talent, Matthew went on to work more creatively with aluminium, producing unique and very beautiful products some of which he brought to our meeting.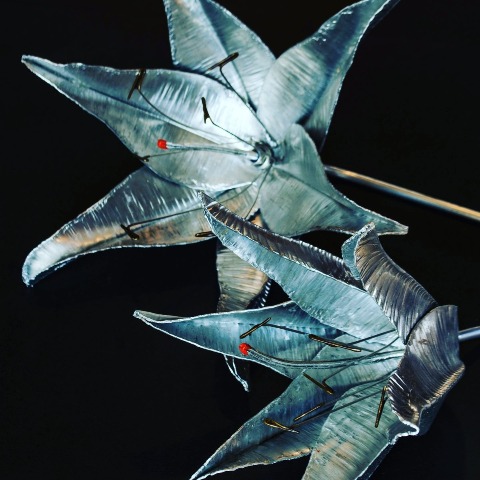 Matthew was easy to listen to and very interesting. He showed us how he beats the aluminium which causes it curve and he showed us samples of his butterflies and bracelets. At the end of his talk, members flocked to his display to have a closer look at all the products on offer and many were seen leaving with one of his beautiful butterflies. Matthew had also brought his young daughter Madeleine, who also has a flair for this art and many members bought her lovely Christmas tree decorations which she makes from tin cans.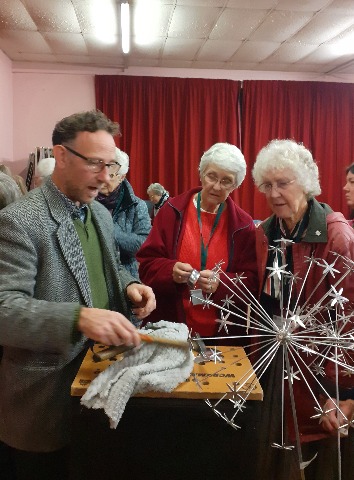 https://leicestershire-and-rutland.thewi.org.uk/find-wi/glenfield/meetings-2017